Admission and Application
Information about application, admission, and eligibility; followed by an FAQ Section.
Admission to Cognitive Neuroscience is highly competitive and bound to a series of necessary preconditions. Applicants need to meet the following two criteria:
Bachelor's degree in psychology, neurosciences, cognitive science, data science, mathematics, physics, biology, computer sciences, or first two parts of the Certificate of Physician Exam (Ärztliche Prüfung) or equivalent.
Proof of proficiency in English ( C1 level ), if not a native speaker ( List of accepted proofs of English proficiency )
The admission process consists of three steps that run from initial application in April/May to a final admission decision by the end of July (tentatively).
Candidates submit their applications in different ways:
Step 1 - Submit an application
The application period for the winter semester is every year between mid-April and the end of May. All the candidates must submit four documents listed below:
Application form: refers to the questions you must fill on uni-assist or the FU application portal. No separate form exists.
Curriculum Vitae (CV) in English
An official copy of your bachelor's degree certificate (diploma) and/or transcript of records (ToR) that specifies your final grade.

ToR from your current academic institution or the B.A./B.Sc. degree with which you apply (including the specification of the sum of credits/ECTS)
Diploma if you have already graduated

Proof of English language proficiency: See above for valid proofs of proficiency.
Two documents listed below must be submitted if the specified condition applies to the candidate:
Self-disclosure form: Only if the name of your bachelor's program is NOT listed below under the Eligibility section.
Additional documents requested by Uni-Assist: Any other document uni-assist prompts you to upload for your application to be valid. This can include proof of identity (e.g., passport copy), an APS certificate, a high-school leaving certificate, a university entrance exam certificate, etc. The required documents can change from year to year and are within the responsibility of Uni-Assist. We will process your application only after Uni-Assist forwards it. Any questions with regard to these additional documents should be asked to Uni-Assist directly, including the APS certificate.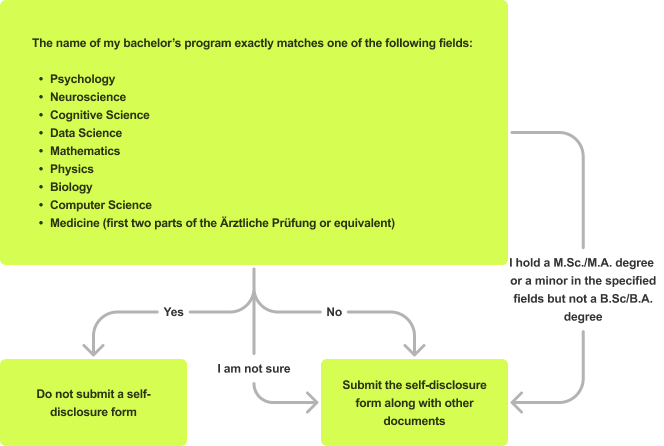 Step 2 - Attend the personal video interview
(beginning of July)
Admission to the Master Cognitive Neuroscience follows a downward point-based ranking ranging from 100-0 selection points (SP), with 100 being top score.
Grades of the undergraduate program will be transferred to a point score up to 60 SP.
(for more information: student affairs office )
Promising applicants will be invited to 10 min interviews (online).
The admission commission will evaluate the motivation and qualification of prospective students by means of these interviews and award them with up to another 40 SP leading to a maximum number of 100 SP.
Step 3 - Final Selection
(end of July / beginning of August)
All approval notifications will be sent out at the end of July / beginning of August.
Eligibility
The probability of being admitted to the program depends on the number of applications and other candidates. The necessary qualification (apart from English level C1) is a bachelor's degree in one of the following fields:
psychology
neuroscience
cognitive science
data science
mathematics
physics
biology
computer science
both parts of the Certificate of Physician Exam (Ärztliche Prüfung)
or an equal qualification, "gleichwertig" (see the following paragraph)
In cases where the name of the candidate's BSc/BA degree is not identical with the listed study programs, the selection committee has to decide if candidate's BSc/BA degree can be "considered as equal" (in German: "gleichwertig"). Decision on whether or not your degree is considered as equal depends on your background (i.e. TOR records) in the following fields:
mathematics / statistics
programming / Computer Science / Data Science
background in quantitative empirical research (e.g. an empirical thesis or internships)
cognitive psychology
neurobiology / medicine / biological psychology
To assist the admission committee with the decision if your study background can be considered equal, please fill out and submit the self-disclosure form together with your application (only if your study program is not on the list above): Click here for the form.

Please Note: It is not possible for us to confirm candidates' eligibility for the master's program in advance. Please DO NOT send an email with CV/TOR. Candidates' eligibility can only be assessed once they submit their applications.
Frequently Asked Questions (FAQ)
Application Documents
Application Period
Typcially not, as the start of the program is in winter/fall semester. 
Only in the case that not all places of the programm are filled (e.g. after drop-outs in the first semester), there will be an admisison in the summer term (in the past this happened rarely). To be considered for admission in the summer term, you need to have your Bachelor Degree completed and you need to submitt evidence that your study background can be considered equivalent to a student who has successfully completed the first semester courses of the MCNB.
Eligibility
Registration & Matriculation
Other